1. LDP Strategy
THE PLAN STRATEGY
1.1
Introduction
Plan Purpose and Background
1.1.1
Swansea is forecast to see significant population growth over the next decade.  The County will need new homes, jobs, infrastructure and community facilities to support economic growth and raise standards of living, while respecting the County's cultural and natural heritage.  It is crucial that growth is properly planned to maximise community benefit and bring forward development that is in the best interests of the County and its people.
1.1.2
To fulfil its duties under national legislation[1], Swansea Council has prepared this Local Development Plan (LDP) (herein referred to as the Plan) for the period 2010 to 2025, in accordance with National Planning Policy and Guidance.  The Plan provides a clear planning framework to address key issues facing the County, providing certainty and the basis for efficient planning decisions.  Its policies and proposals will enable the delivery of sustainable development, and ensure that social, economic, environmental and cultural well-being goals are all suitably balanced in the decision making process so that the right development occurs in the right place[2].
1.1.3
The Plan is underpinned by an extensive and up to date evidence base which, in combination with extensive public and stakeholder engagement undertaken during Plan preparation, has been used to identify the key opportunities, land use requirements, and issues for the County over the Plan period.  The Plan has a Vision, Strategic Objectives and Growth strategy that address these opportunities and issues, which are set out later within this section.  The Plan's policies and proposals are in Chapter 2 and have a sound grounding in the background evidence and strategy.  Allocations are annotated on the Proposals Map to be read alongside relevant policies.
1.1.4
The Plan will be monitored annually and reviewed as appropriate to keep it relevant and up to date, having regard to changes in circumstances and national guidance.  An Annual Monitoring Report (AMR) will be produced to measure the relevance and effectiveness of the Plan, which will be based on the monitoring framework set out later in Chapter 4.
Achieving Well-being and Sustainable Development Goals
1.1.5
The Plan has been prepared with full consideration of the Council's duties to work towards Wales' seven shared well-being goals and to contribute to sustainable development and management of natural resources[3] (see Figure 1).  It has been subject to Sustainability Appraisal incorporating Strategic Environmental Assessment (SEA), collectively referred to as an SA[4].
[3]  Under the Well-being of Future Generations (Wales) Act 2015 and the Environment (Wales) Act 2016.
[4]  As required by the Planning and Compulsory Purchase Act 2004 and the Strategic Environmental Assessment Regulations.  See http://www.swansea.gov.uk/ldpsasea
[5] Well-being of Future Generations (Wales) Act 2015
Figure 1:The National Well-being Goals for a Sustainable Wales [5]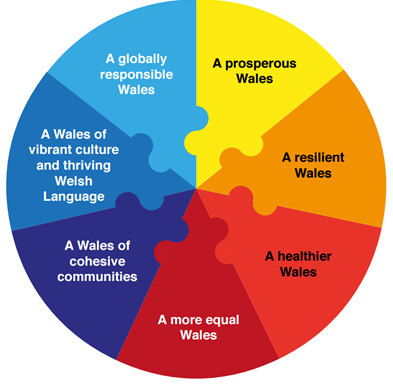 1.1.6
The purpose of the SA was to examine and improve on the extent to which the Plan achieves the wellbeing goals and contributes to sustainable development, in so far as is possible through the land use planning system, while taking into account any significant effects on the environment. The Council has adopted an integrated approach to appraisal and assessment in which economic, social and cultural well-being goals have been considered alongside environmental effects and the sustainable management of natural resources. The SA has been an iterative process throughout the Plan's preparation and this is reflected in the Plan's growth strategy, policies and proposals.
1.1.7
The Council has acted in accordance with the sustainable development principle6 throughout Plan preparation. Specifically, the evidence base has identified short and longer term needs and issues, the competing priorities of which have been balanced within the Plan's strategy and policies. Existing and potential future deficiencies have been identified throughout the process, such as infrastructure provision and affordable housing, and these have also been addressed by Plan policy.  
6 In accordance with the Well-being of Future Generations (Wales) Act 2015.
1.1.8
Land use planning has been fully integrated with wider holistic considerations (such as infrastructure requirements and sustainable management of natural resources) through collaboration with relevant stakeholders on all topic areas. There has been comprehensive engagement at each stage of the Plan's preparation in-line with the Community Involvement Scheme (CIS) ensuring consensus building and transparency. 
1.1.9
A Habitats Regulations Assessment (HRA) of the Planhas been undertaken. The HRA determines the likely significant effects of the Plan on European Sites of Nature Conservation Importance. For the purposes of the HRA of the Plan, European Sites are defined as Special Protection Areas ( SPA) , Special Areas of Conservation and Ramsar sites. The HRA concluded that although some land-use policies may need to mitigate against potential adverse impacts, none were considered likely to have a significant effect on the integrity of any or all of the European Sites identified either alone or in combination with other plans, projects or programmes. However the HRA does not exempt further assessment of sites or projects as these are progressed through the planning system.
Strategic Planning Context
1.1.10
The Plan fits within the framework of other relevant National Planning Policy and Guidance, and other regional and local policies and strategies. These are comprehensively set out in the Appendices 1 and 2 to the Plan. 
1.1.11
Of particular note is Planning Policy Wales (PPW)7, which sets out the national land use planning policies of the Welsh Government. It is supplemented by Technical Advice Notes (TANs); procedural advice given in circulars; and policy clarification letters. National Planning Policy and Guidance is not repeated throughout the Plan, but must be taken into account in managing the development and use of land in the public interest and contributing to the achievement of well-being and sustainable development.
1.1.12
The Plan takes account of the aims and aspirations of The Wales Spatial Plan (WSP)8, which sets out a strategic framework to guide future development and policy interventions in Wales at a regional and national level, beyond the scope of formal land use planning control. The County's regional geographical context has been expanded since publication of the WSP, with the formal launch in 2013 of the Swansea Bay City Region (the City Region). The County lies at the heart of this City Region which comprises the Local Authorities of Carmarthenshire, Neath Port Talbot, Pembrokeshire and Swansea (see Figure 2). The Plan is firmly set in the context of the City Region aspirations, which are primarily to boost investment and job opportunities through the creation of a holistic business area defined by travel to work flows, and achieving increased connectivity, based around social and economic interdependence and existing partnership working9 .
8 The Wales Spatial Plan: People, Places, Futures (updated 2008)
1.1.13
The geography and character of the City Region is extensive and diverse, comprising a resident population of 685,000, with some 280,000 jobs in around 20,000 businesses. It is characterised by high quality natural environments, including a number of internationally designated areas, as well as dynamic urban centres with the Swansea Central Area at its heart, complemented by a number of vibrant market towns. 
1.1.14
The Council has worked closely with neighbouring Local Planning Authorities (LPAs) to ensure cross boundary issues have been taken into account in the Plan's strategic opportunities and issues. This approach has ensured that certain cross-boundary issues and evidence has informed the adopted Plans of neighbouring Authorities, as well as the Swansea LDP. Key elements of the evidence base, such as the assessments of housing requirements and economic growth potential have recognised the cross-border nature of the housing and economic markets, while other issues such as transport, minerals and shoreline management have established regional working arrangements. Specifically, the City Region Economic Regeneration Strategy10 aims for the region to "be a confident, ambitious and connected City Region, recognised internationally for its emerging Knowledge and Innovation economy" and to increase productivity, higher-value activity and higher- value jobs. This aim is translated into detailed Plan Policy, having regard to local economic growth opportunities.
10 City Region Economic Regeneration Strategy (ERS) 2013-2030
Figure 2: The Swansea Bay City Region and its Geographical Context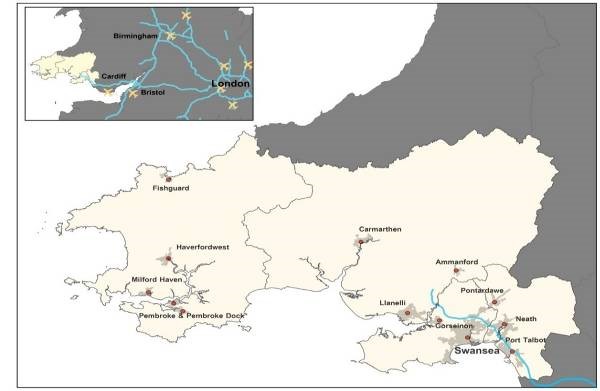 Source: Economic Growth Strategy for Swansea Bay City Region (2013) 
1.1.15
The overarching local level strategic framework for the Plan was provided by the Single Integrated Plan (SIP)11. Its purpose was to improve the well-being of people in the County by ensuring that professionals and the public worked together through the Public Service Board. The SIP and the Plan had a consistent shared Vision for the kind of place that the County should be. The SIP sets out to achieve this Vision through the community well-being outcome objectives below which the Plan seeks to take forward in land use planning terms.
Children have a good start in life
People learn successfully 
Young people and adults have good jobs
People have a decent standard of living
People are healthy, safe and independent
People have good places to live and work. 
The SIP was replaced by the Swansea Local Well-Being PlanREF in 2018. The Well-being Plan sets out four overarching well-being objectives and one cross cutting action, which are consistent with the SIP and the LDP.
11 One Swansea Single Integrated Plan 2015: Place, People, Challenges and Change. Swansea Local Service Board 
1.1.16
The Plan also takes forward relevant objectives of other local strategies that have informed the Plan Strategy (see Appendices for full list), which includes:
Local Housing Strategy
Local Transport Plan
Gower AONB Management Plan
Swansea Biodiversity Action Plan
Local Flood Risk Management Strategy, and
Municipal Waste Management Strategy 
1.1.17
The County has a diverse character, covering approximately 380 sq km with a population of around 245,000 (mid year estimate 2017), which has been increasing steadily for over a decade. The County can broadly be divided into the: 
City and conurbation of Swansea and its urban waterfront, the second largest City in Wales and the urban focus for the City Region;
Urban settlements and communities generally spread along the main transport corridors into the City; 
Gower Peninsula and its hinterlands in the west;
Sparsely populated open moorlands to the north.
1.1.18
There are variations in the socio-economic profiles of communities across the County. These are set out in Ward Profiles which highlight local issues and opportunities for the Plan to address. 
1.1.19
To help understand the distribution of residential settlements, the County is split into housing market areas with similar characteristics (shown in Figure 3), referred to as Strategic Housing Policy Zones (SHPZ's). These enable strategic level consideration of growth patterns, and provide a means of identifying common issues affecting future development within parts of the County.The Electoral Wards that comprise each SHPZ are described and illustrated in the Appendices.
Figure 3: Strategic Housing Policy Zones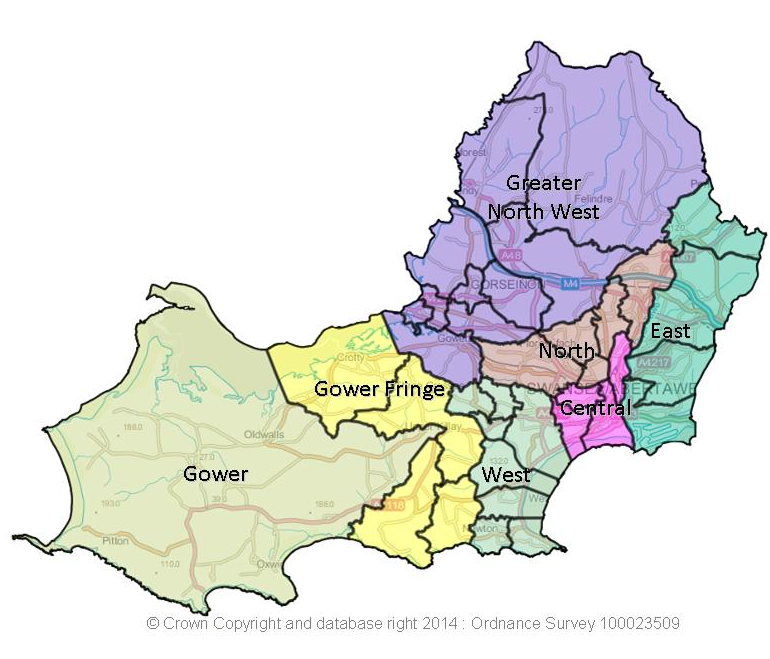 Opportunities and Issues
1.1.20
The significant amount of evidence gathering and background research that has been undertaken during the course of Plan preparation has helped to identify the key strategic opportunities and issues that the Plan needs to address. These are summarised below and grouped under the well-being headings12 of economy; social and cultural; and environment. They are illustrative of the broad spectrum of areas where the Plan can affect change, particularly in terms of improving sustainability and well-being. The list is not exhaustive since the range of issues affecting and affected by the Plan is extensive19 .
Economic
1.1.21
• Evidence suggests there is potential for 13,600 additional jobs to be created during the Plan period.
• The Swansea Central Area is the heart of the 'City Region', and should act as its economic hub and main driver. Its sustainable regeneration must be a key driver for the Plan.
• Health, education and public administration jobs are overrepresented compared to UK averages, therefore the local economy is vulnerable to reductions in public spending.
• The additional jobs required over the Plan period will need to be delivered through development that promotes growth across sectors, and re-orientates the economy towards high quality, skilled and knowledge based sectors.
• Employment land opportunities are required for a range of potential enterprises and investments, from small-scale local concerns to large-scale strategic development areas that may appeal to inward investors. 
• A number of sites have been allocated historically for employment purposes, but not yet developed for a variety of reasons, including the Felindre strategic site.
• There is a lack of available, high quality office space to meet economic growth needs, combined with an oversupply of sub-standard office space at central and out of town locations.
• There is a large amount of industrial/warehousing floorspace of varying quality within the employment landbank, including strategic site provision at Westfield Industrial Park, Waunarlwydd.
• Out of town development of retail, office and leisure uses has historically reduced City Centre investment and further proliferation of out-of-centre retail in particular poses a significant threat to delivering a regenerated Central Area.
• Further investment at SA1 and the Fabian Way Corridor is needed to sustain the successful regeneration of former dock areas, whilst complementing the Central Area's regeneration and the remaining port operations.
• Leisure, tourism and heritage-led development has potential to deliver significant economic and cultural benefits, including facilitating regeneration of the Swansea Central Area, and enhancing the rural economy.
• A buoyant rural economy is needed to support the overall growth of the County, and to help sustain community life. Sustainable tourism provides a key means of delivering this growth and providing good quality local jobs.
• The economic viability of sites for delivering new housing varies considerably across the County, with significantly increased viability to the west.
• There are significant variations between wards regarding economic prosperity and deprivation.
• Swansea's Higher Education Institutions have an important role in facilitating economic growth, for example providing support and networking opportunities for small and medium sized start-up companies, and more broadly enhancing the culture of entrepreneurship and innovation.
Social and Cultural
1.1.22
• Significant population and household growth is projected over the Plan period.
• Housing must be provided (of varying types, at a range of locations) to accommodate projected household growth, ensure a resident population that supports employment growth, and help meet affordable housing needs.
• Sufficient land is required to accommodate identified Gypsy and Traveller needs. 
• The County has an ageing population, in-line with national trends, which has implications for future service and housing provision.
• There is a sizeable Higher Education student population based at the two Universities and the Further Education College, and increasing demand to provide additional accommodation.
• Community cohesion issues are experienced in certain Wards which have a high concentration of Houses in Multiple Occupation (HMOs).
• There are a range of social, cultural and historic elements that contribute to a sense of place and identity across communities within the County.
• The County needs to capitalise on its 'Healthy City' designation by designing healthy social and physical environments to help support health and well-being.
• There are significant variations across the County in terms of social indicators of deprivation, including access to health, education and community services and facilities; and housing quality. Some communities lack a social hub and/or key facilities to act as a community focus. Others have a range of services and facilities that contribute to vibrant community life. A more equitable distribution is needed.
• There are a number of communities where the Welsh language is an important part of the social fabric and their identity must be safeguarded.
• The increasing number of dwellings being used as holiday homes on Gower impacts on the availability of housing to meet affordable and local needs.
Environmental
1.1.23
• Due to the success of past regeneration, there is now limited previously developed (brownfield land)remaining to accommodate development.
• The County benefits from outstanding natural heritage with diverse landscapes and habitats comprising over 80% of the total area. Approximately 17% of the County is protected by international or national designations, whilst 40% is covered by the Gower Area of Outstanding Natural Beauty (AONB).
• The high quality natural environment, landscapes, and coastline are important assets to the local economy, attracting visitors, and providing resources. The wealth of wildlife habitats support a huge diversity of plant and animal species (biodiversity) that must also be valued for their intrinsic worth.
• Development must protect the quality of water bodies so they accord with Water Framework Directive objectives, respect floodplains and have regard to the potential for more erratic, unpredictable and extreme weather that may arise from climate change.
• The County has a proud industrial heritage and a number of historic buildings, such as castles and Scheduled Ancient Monuments, which development must respect and consider how their economic, cultural and social value can be capitalised upon.
• The County supports an extensive green space network, which is vital to economic, environmental and community well-being, and more green infrastructure is needed to meet national guidance and local requirements for improving accessibility to open space.
• Improvements to linkages between open spaces, Public Rights of Way (PROW), and key destinations are needed to increase accessibility and promote physical activity.
• There are a number of specific locations where hazardous substances are, or were, stored and are accordingly designated hazardous installations where the risk of development to human health is an important consideration.
• Poor air quality is an issue in some areas, which can have a detrimental impact on human health. Parts of the urban area have been designated as Air Quality Management Areas (AQMAs), where further deterioration in air quality would be of significant concern.
• The area's industrial past has left a legacy of potentially contaminated sites, where remediation is required to protect human health and well-being. 
• The County has rich mineral resources which will need to be safeguarded from sterilisation.
• The capacity of the existing sewerage treatment infrastructure will need to be carefully considered in the context of the anticipated level of growth. In some instances reinforcement works may be required in order to accommodate new development without detriment to the existing system and/or the environment.
• There is a requirement to accommodate the disposal of waste in the County.
• Greater resilience needs to be built into the supply of energy, and energy efficiency promoted as a means of supporting the de-carbonisation of the energy supply chain.
• There are potentially significant opportunities for renewable energy generation and new energy infrastructure to help meet carbon reduction requirements, in particular, the tidal range in Swansea Bay, wind and solar radiation opportunities, and potential to develop local energy supply networks such as District Heating and Cooling systems.
• High value and volume development can provide a means of delivering necessary new infrastructure to alleviate existing capacity problems, whilst providing facilities and infrastructure to support new proposals.
• The existing highway network experiences traffic congestion along certain main routes and junctions, which can have a negative impact on amenity, health and well-being, and economic competitiveness. 
• Appropriate siting and design of development will significantly help to minimise use of the car and achieve increased rates of non-motorised travel, particularly for distances of less than 3km for walking and less than 8km for cycling. 
• Additional bus priority measures, enhanced rail services and Park and Ride services have significant potential to reduce traffic congestion and pollution levels for the benefit of existing communities and future populations.
• Swansea's Higher Education institutions have an important role in facilitating economic growth, for example providing support and networking opportunities for small and medium sized start-up companies, and more broadly enhancing the culture of entrepreneurship and innovation.
Vision and Strategic Objectives
1.2.1
A Vision and a set of Strategic Objectives have been formulated to ensure the Plan addresses the key opportunities and issues identified, and that it accords with the strategic planning priorities in relevant national, regional and other local policies and strategies. The Vision and Strategic Objectives have been shaped by public and stakeholder engagement.
1.2.2
The Vision clarifies the core purpose of the Plan, how the County is expected to change and describes the sort of place it should become during the Plan period. It is a Vision that recognises the County's regional context, is consistent with the SIP and translates the well-being vision for Wales as a whole13 into the local context. It states:
The LDP vision
Swansea will be a desirable, sought after place to live, work and visit that:
• Capitalises on the distinctive relationship between its vibrant urban areas and outstanding rural and coastal environments
• Supports a competitive and prosperous economy that acts as a focal point for the wider Swansea Bay City Region
• Has sustainable, distinct communities, in both urban and rural locations, that benefit from good quality homes, supporting infrastructure, community facilities and opportunities for recreation
• Is a thriving City Centre destination that offers excellent shopping facilities and supporting leisure and business opportunities, capitalising on its proximity to the waterfront.
• Celebrates and conserves its unique natural heritage and cultural and historic environments
Strategic Objectives
1.2.3
The Vision will be delivered through strategic level Plan objectives for improving economic, environmental, cultural and social well-being. The Figure 4 illustrates how the Plan's Strategic Objectives will help deliver the shared well-being goals for Wales14 .
14 Well-being of Future Generations (Wales) Act 2015
Figure 4: Compatibility of Strategic Objectives with National Well-being Goals
Enhancing Communities, Facilities & Infrastructure

National Well-being Goals

Prosperous

Resilient

Healthier

More equal

Cohesive communities

Vibrant culture and thriving Welsh language

Globally responsible

1

Ensure that communities have a mix of uses and facilities to create sustainable, inclusive neighbourhoods that help to bring about wider social benefits and allow community life to flourish

X

X

X

X

X

X

X

2

Encourage development of town and district centres as focal areas for regeneration

X

X

 

X

X

 
 

3

Improve access to healthcare, lifelong learning, leisure, recreation, and other community facilities

 
 

X

X

X

 
 

4

Create environments that support and promote walking, cycling and public transport as integral elements of a sustainable transport system

 

X

X

X

X

 

X

5

Facilitate the provision and safeguarding of appropriate utility and transport infrastructure to support communities and businesses

X

X

 

X

X

 
 

6

Encourage appropriate development of low carbon and renewable energy resources and energy infrastructure

 

X

 
 
 
 

X

7

Support the safeguarding and sustainable use of natural resources where appropriate

 

X

 
 
 
 

X

8

Facilitate the sustainable management of waste

 
 
 
 

X

 

X
Delivering Economic Growth and Prosperity           

 

 

 

Prosperous

Resilient

Healthier

More equal

Cohesive communities

Vibrant culture and thriving Welsh language

Globally responsible

9

Direct new housing to economically viable and deliverable sites at sustainable locations

X

 

X

 

X

 
 

10

Support development that positions Swansea as an economically competitive place and an economic driver for the City Region

X

X

 
 
 
 
 

11

Facilitate growth and diversification of the local economy and an increase in high value, skilled employment 

X

X

 

X

 
 
 

12

Reinforce and improve the City Centre as a vibrant regional destination for shopping, culture, leisure, learning and business

X

X

 
 
 

X

 

13

Ensure Swansea represents a strong commercial investment opportunity for developers and other partners to deliver the Council's priority regeneration schemes

X

X

 
 
 
 
 

14

Ensure that communities have a sufficient range and choice of good quality housing to meet a variety of needs and support economic growth

X

X

 

X

X

X

 

15

Promote and enhance a diverse and sustainable rural economy

X

X

 
 

X

 
 

16

Improve, expand and diversify appropriate sustainable tourism facilities and infrastructure

X

 
 
 
 

X

 
Fostering a High Quality Environment

Prosperous

Resilient

Healthier

More equal

Cohesive communities

Vibrant culture and thriving Welsh language

Globally responsible

17

Promote a sustainable development strategy that prioritises the re-use of appropriate previously developed land, avoids significant adverse environmental impacts and respects environmental assets

X

X

 
 
 
 

X

18

Preserve and enhance the County's high quality cultural and historic environments

X

 
 
 
 

X

 

19

Conserve and enhance the County's natural heritage

X

X

 
 
 
 

X

20

Maintain and enhance green infrastructure networks

 

X

X

 

X

 

X

21

Support measures to minimise the causes and consequences of climate change

 

X

X

 
 
 

X

22

Promote good design that is locally distinct, sustainable, innovative and sensitive to location

 

X

 
 

X

 
 

23

Support the development of safe, accessible and vibrant places and spaces

 

X

X

 

X

 
 

24

Create environments that encourage and support good health, well-being and equality

 

X

X

X

X

 
 
Growth Strategy
Scale of Change
1.3.1
The Council has identified and tested different growth scenarios using the latest Welsh Government (WG) population and household projections as a starting point, which were subjec to engagementwith the public and stakeholders.
1.3.2
The analysis of growth scenarios evolved during the preparation of the Plan based on the evidence available and the representations received. The draft Preferred Strategy initially considered a set of options that were higher, lower and in-line with the 2008 based principal WG household projections. Following the 2011 Census, and subsequent publication by WG of 2011 based household projections, the Council re-appraised the Growth Options. This re-appraisal followed consultation on the Preferred Strategy, which included representations from WG that it would not be appropriate to consider a growth option lower than the principal WG household projection in view of the aspirations for City Region growth.
1.3.3
Three main options summarised in Figure 5 were analysed prior to publication of the Deposit Plan for the extent to which they will deliver the Plan's Strategic Objectives and SA Objectives. Two of the options are derived from official demographically driven trend based projections. Firstly the housing growth required to accommodate the latest WG principal household projection (2011 based) for the Plan period in the County. Secondly, the number of homes required to accommodate the WG previously published highest variant projection of household growth (2011 based). A third option was generated by supplementing the 2011 based WG household projections with locally and regionally specific data, in particular regarding future economic growth scenarios and the associated level of housing required. This third option is a policy based forecast for the housing required to support the Council's aspirations for economic growth in view of Swansea's role as the regional hub for the City Region. 
Option 1: Based on the latest WG (2011) principal projection.
Base household population (2010):                                                                                       102,600
Projected household population (2025):                                                                               116,500
Household population change, 2010-2025:                                                                          +13,900
Dwelling requirement, 2010-2025:                                                                                        +14,600
10% Flexibility Allowance:                                                                                                    +1,500
On this Option the Plan will need to provide 16,100 dwellings
Option 2: Based on the latest WG (2011) 10 year average migration projection (the highest of the WG published variant projections for Swansea).
Base household population (2010):                                                                                       102,600
Projected household population (2025):                                                                               117,400
Household population change, 2010-2025:                                                                          +14,800
Dwelling requirement, 2010-2025:                                                                                        +15,600
10% Flexibility Allowance                                                                                                     +1,600
On this Option the Plan will need to provide 17,100 dwellings
Option 3: Based on the Economic Growth and Employment Land Assessment EE+ scenario (updated May 2014).
Base household population (2010):                                                                                       102,600
Projected household population (2025):                                                                               116,500
Household population change, 2010-2025:                                                                          +14,000
Dwelling requirement, 2010-2025                                                                                         +14,700
10% Flexibility Allowance                                                                                                     +1,500
On this Option the Plan will need to provide 16,100 dwellings
NB: Figures may not sum due to rounding
1.3.4
The analysis of demographic trends and economic Swansea Local Development Plan growth scenarios undertaken to evidence the Deposit Plan Growth Strategy confirmed that the requirement for 2010-2025 was 15,600 new dwellings. If a 'standard' 10% flexibility allowance is applied to this figure to allow for where some sites may not come forward as planned or to respond to unforeseen needs, this would suggest the Plan should provide 17,100 homes over the Plan period. A comprehensive further assessment and update of the evidence base relating to the projected level of economic and housing growth that underpins the Deposit was undertaken in 2017. This provided an updated evidence-based position and review of all relevant factors influencing the provision of housing and employment land in the County over the Plan period. It was carried out in the context of 2017 published WG population and household projections and an up-to-date assessment of the economic growth potential of the area. The outcome of this review confirmed that the housing requirement figure set out within the Deposit Plan of 15,600 homes is appropriate and aligned with the latest evidence.
1.3.5
The Plan takes forward the evidenced 15,600 housing requirement figure, and in so doing makes provision for the potential economic growth likely over the Plan period associated with the City Deal and projects forward long term demographic trends which include periods of economic growth as well as the more recent economic downturn.  
1.3.6
This growth equates to an average annual build rate of around 1,040 dwellings per annum over the Plan period. By comparison, the total average annual house build over the past ten years has been around 680 dwellings, falling to 565 over the past five years. It will therefore require a step change in the delivery of sites to achieve this build rate. The selection of sites has responded to this, ensuring that sites allocated are deliverable and developable during the Plan period. Those selected provide an appropriate spread and range of sites to allow for unforeseen issues that may delay completions of new homes on certain sites.
1.3.7
From the 2010 Plan base date to publication of the Deposit Plan, 2,638 dwellings were built, including a contribution from windfall sites. An update to the evidence base as of April 2017confirmed that the latest completions figure is 3,630 dwellings. The Review identified that there is also capacity for a further 2,203 dwellings on sites capable of accommodating 10 or more dwellings which have extant planning permission and are either under construction or expected to be delivered within the next 5 years. These 5,833 dwellings in total are classified as commitments, and along with the Plan allocations will combine to meet the housing provision Swansea Local Development Plan required. 
1.3.8
Over and above these commitments and allocations which will meet the identified 15,600 housing requirement for the Plan period, it has been assessed that further housing will be provided through large (10+ dwelling units) windfall sites. The evidence base provides a basis for an allowance to be made for the contribution from large windfallsites equating to approximately 858 dwellings. These are sites not included in the Plan but which are anticipated to emerge over the Plan period as windfalls to increase the available housing supply. As the Plan only allocates sites for 10+ units, an allowance also needs to be made for smaller windfall sites that will come forward. A contribution from smaller (<10 units) unallocated sites (based on the past 5 year average) is projected to provide in the region of 1,024 dwellings over the remainder of the Plan period. The full breakdown of the components of housing supply and requirements is set out in Table 1 in Policy PS 3 Sustainable Housing Strategy.
1.3.9
The Plan seeks to facilitate a new era of prosperity and opportunity, which requires a focus on the creation of new and enhanced employment opportunities. The Plan will make provision for the creation of 13,600 new jobs over the Plan period. In doing so the Plan seeks to maximise job growth and productivity, which is fundamental to achieving the Plan's Vision. This maximisation of employment opportunities complements the economic led approach being taken by neighbouring Neath Port Talbot County Borough Council (NPT) and reflects the County's role as the economic driver for the wider City Region. The evidence base has enabled forecasts to be made of how future economic growth will equate to requirements for employment land over the Plan period, as well as the number of new homes needed to accommodate the projected labour supply, ensuring employment and housing is planned in tandem.
1.3.10
The Plan supports the creation and retention of a more diverse balance of jobs to maximise employment opportunities for all residents. It does this by means of allocations and the protection of the most valued existing employment sites. In-line with the City Region ERS15, this will include emphasis on the Knowledge and Innovation Economy to create higher added-value sectors as well as more traditional employment sectors, and a more diverse and sustainable rural economy. 
15 Swansea Bay City Region Economic Regeneration Strategy (ERS) 2013-2030.
1.3.11
The Plan will facilitate appropriate development opportunities for new office accommodation to meet identified demand, particularly high quality premises, with the City Centre being the priority location. There is still some demand for industrial space, including for the re-use of land and from existing businesses seeking modern accommodation. The Plan will Swansea Local Development Plan ensure there are sufficient available sites or allocations for new modern space. Sites no longer considered fit for purpose will be considered for alternative uses.
1.3.12
Jobs not in Use Class B1-B3 space (such as retail, leisure, and health sectors) are forecasted to account for the majority of future employment growth. There are already significant plans for accommodating these uses through City Centre developments, new education facilities and a number of Use Class Sui Generis uses. Of particular note in more rural parts of the County is sustainable tourism development, which has significant potential to sustain local communities and deliver valuable employment opportunities away from the more central urban areas. Plan policies provide for such opportunities at an appropriate scale. 
Spatial Strategy
1.3.13
The strategy for allocating land to meet anticipated growth and identified land use requirements is focussed on sites that will best address the Plan and SA objectives. There is a particular focus on providing employment growth opportunities, regeneration and delivering good quality accommodation in sustainable cohesive communities, while conserving the County's unique natural heritage, and cultural and historic environments. 
1.3.14
The role of planning in creating sustainable communities and promoting well-being, and the general presumption in favour of sustainable development, are embedded principles in National Planning Policy and Guidance and underpin the Plan's strategy. The Plan translates these principles into good practice to deliver development that is designed, built, and sited to achieve positive economic, social, cultural and environmental impacts.
1.3.15
Different spatial options have been tested for distributing the identified growth projections and associated land use requirements for the Plan period, in consultation with the public and stakeholders. The spatial options, set out in Figure 6 below, have considered different levels of scale and distribution of growth.
Figure 6: Spatial Options
| | | | |
| --- | --- | --- | --- |
| Option 1 | Option 2 | Option 3 | Option 4 |
| Edge of settlement allocations throughout the County | Edge of settlement allocations, plus limited rural/semi-rural extensions | Sustainable Urban Extensions for residential | Strategic Development Areas |
| 'Spread Approach' | 'Spread Approach - Plus' | 'Focussed Approach – Residential' | 'Focussed Approach – Mixed Use and Residential' |
1.3.16
Option 1 and 2 involve allocation of non-strategic small scale sites for residential use on sites that will round off the settlement in an appropriate manner. For the latter 'Plus' option this includes village and urban fringe locations where the existing character would be maintained or improved.
1.3.17
Option 3 involves non-strategic medium scale (defined as <400 units) primarily residential led development that will sustainably extend the settlement boundary at a limited number of established communities, without necessarily a need for new on-site supporting infrastructure or where this can be delivered off-site. 
1.3.18
Option 4 comprises a focus on strategic scale sites for both mixed use and residential development (defined as 400+ units) to create sustainable communities with a mix of complementary uses and supporting infrastructure. This option would be delivered primarily on appropriate greenfield land as well as brownfield sites.  
1.3.19
The analysis has taken into account the extent to which the options could sustainably deliver the land use requirements of the Plan. It has considered development and regeneration opportunities, constraints, the capacity of physical and community infrastructure, transport availability, and the role of settlements. The analysis also considered the County's significant diversity in community profiles, economic base, the mix of urban and rural areas and the need for the scale and type of development to be appropriate to the character and opportunities of each distinct area. Each option has been assessed against the Plan and SA objectives, including consideration of cumulative impacts, and proposed mitigation for predicted negative effects. 
1.3.20
The analysis has used the brownfield land led strategy in the Swansea Unitary Development Plan (2001-16, (UDP) as a benchmark or 'business as usual' scenario. In-line with national guidance, and good practice sustainable development principles, the Plan's Strategy will maximise development of appropriate brownfield land within existing settlement boundaries where such sites are available, economically viable and capable of delivery in the Plan period. However, the evidence base to the Planmmakes clear the amount of brownfield land that Swansea Local Development Plan is appropriate and viable for development is insufficient to meet the identified housing requirement. Furthermore, a sustainable growth strategy is not about exhausting all undeveloped land within the urban area for development. Some of this land will provide important green space that should be protected for local amenity and biodiversity.
1.3.21
The assessment has concluded that a complete reliance on medium scale sustainable urban extensions, or just smaller edge of settlement sites, would not be appropriate since the scale of sustainable development opportunities could not provide for the level of housing growth required, while not all areas have the capacity in terms of infrastructure to support residential growth. There would also be limited potential to address any infrastructure capacity issues to make development sustainable due to the smaller scale of such allocations. Whilst the Plan will make best use of appropriate brownfield land opportunities, the analysis has shown that a significant element of future growth will need to be delivered on sites beyond the existing settlement limits. Greenfield developments will need to be delivered in a sustainable manner, by maintaining important natural landscape features and green infrastructure, and by providing realistic alternatives to private car travel.
1.3.22
In summary, the assessment has demonstrated that none of the growth options in isolation will deliver sustainable development. The assessment of options and recommendations for mitigation of negative effects has highlighted the need to pursue a combination of approaches to deliver the land use requirements over the Plan period in a sustainable manner. 
1.3.23
The selected growth strategy therefore proposes the creation of a limited number of sustainable new neighbourhoods at Strategic Development Areas (SDAs), within, or close to the existing urban area. SDAs have the greatest potential to contribute to the Plan's Vision and Strategic Objectives and deliver well-being and sustainable development. The size of SDAs presents sufficient scale to enable careful strategic master planning to ensure they create sustainable, cohesive, well-designed and quality new places which are delivered through a strong Placemaking approach. The economies of scale will enable the level of new infrastructure required to be provided and through careful siting of SDAs, they will address infrastructure deficiencies that exist within adjoining communities resulting in part from previous less sustainable developments. However, there is also an important need to address the identified housing requirements of all communities in the County. A focus on SDAs, by virtue of the appropriate available development opportunities, would lead to an over concentration of development in certain SHPZs. To fulfil housing needs across the County, the SDAs will be supported by a limited number of non-strategic medium scale edge of settlement extensions and more dispersed and smaller allocations to round off settlements. These will ensure provision of a mix of housing development across the County where it is needed, including small scale appropriate development to provide affordable Housing for Local Needs in rural and semi-rural settlements where the existing character and cohesion of the community will be maintained or improved by development.  
1.3.24
The Growth Strategy is therefore formulated on a sustainable settlement approach that will ensure development delivers sustainable places and that the spatial growth of the County will be strategically managed in-line with the identified growth forecasts. Importantly, this approach will allow for new homes, jobs, infrastructure and community facilities to come forward in a sustainable and appropriately phased manner. The Strategy of a balanced distribution between large strategic allocations (SDAs), together with a proportion of smaller scale sites represents the most viable means of delivering the Plan's Vision and Objectives. The Plan's policies will require necessary contributions to be secured through individual agreements on future applications, but significantly, requires specific facilities and infrastructure, such as schools and roads, to be delivered as integral parts of Strategic Development Areas. In this respect each privately promoted residential led SDA has been subject of an independent financial viability assessmentthat has considered the developer margin and community interests and the principles of good planning practice. This analysis provides a high degree of confidence that the costs of the Development Requirements and Placemaking Principles set out in the SDA site specific policies have been properly taken into account in the master planning process and that the Council's aspirations for delivering quality new communities at these strategic sites are realistic and deliverable within the Plan period. Figure 7 below provides a diagram of the Plan's strategy, which illustrates the spatial distribution of key development areas.
Broad Locations for Growth
1.3.25
The broad locations identified for growth arising from the analysis of spatial options are summarised, as follows. These are broken down by the SHPZ's identified in the Local Housing Market Assessment (LHMA), Figure 2 refers.
1.3.26
The location of land allocations has been identified from detailed assessment of the opportunities for, and constraints upon, development, including viability and market demand and the potential economic, environmental, social and cultural impacts. 
1.3.27
The Greater North West (GNW) encompasses Swansea Local Development Plan former industrial communities such as Gorseinon and Pontarddulais, which have become primarily dormitory settlements served by large District Centres. There has been significant public sector infrastructure investment for new employment land and premises.The UDP housing-led growth strategy delivered new growth over the last decade and this has brought with it significant supporting retail investment but limited other social and physical infrastructure.
1.3.28
Opportunities for settlement growth have been identified where it is supported by infrastructure provision. New infrastructure is needed to help sustain existing communities as well as support growth. Such infrastructure is not realistically likely to occur without further development. SDAs are allocated within the GNW at:
• Llangyfelach, north of M4 Junction 46 – to create a new sustainable settlement that will complement the adjacent Felindre strategic employment site.
• Penllergaer, south of the A4240 – to create a new neighbourhood and extend the existing settlement by means of a residential led development with supporting community infrastructure to bring a new focus to the wider community, and delivery of a new through road to serve the site and also provide a strategic function that will alleviate congestion.
• Garden Village - to create a new neighbourhood and extend the existing settlement by means of a residential led development extending the settlement northwards with significantly enhanced linkages to Gorseinon District Centre to maximise the site's sustainable location.
• Pontarddulais - to create a new neighbourhood and extend the existing settlement by means of a residential led development at a sustainable location north west of the town that will capitalise on brownfield opportunities in tandem with adjoining greenfield areas, and provide new community facilities and improved highway access around the town. 
1.3.29
Also within the GNW, non-strategic greenfield releases are proposed on the edge of existing settlements providing appropriate rounding off and/or the fulfilment of suitable UDP allocations.
1.3.30
In total around 4,979 new homes are proposed within this Zone.
1.3.31
The North Zone incorporates largely residential urban areas around the fringes of Central Swansea, including Penlan, Mynyddbach, Llangyfelach, and Morriston; and also established business parks at Fforestfach and Waunarlwydd. In recent decades there have been low levels of house building and a lack of developer interest at a number of locations within the zone resulting in unbuilt UDP allocations. The allocations in this Plan need to provide a different offer. SDAs are allocated within the North Zone at:
• Penderry, west of Llangyfelach Road - to create Swansea Local Development Plan new neighbourhoods by means of a residential led development of substantial scale, incorporating a mix of community facilities that offers a particular opportunity towards the south of the site to help regenerate an area of relative deprivation. A new through road will alleviate congestion and there are opportunities for sustainable transport linkages and improving accessibility to areas to the north. This site overlaps into the GNW Zone.
• Waunarlwydd extending north to Fforestfach – a mixed use development of brownfield and greenfield opportunities with a mix of residential, employment and supporting uses, served by a new highway link to alleviate congestion, and capitalising on proximity to Gowerton Railway Station.
• Clasemont Road, Morriston - to create a new neighbourhood on a site promoted as a 'legacy project' by the Trustees of the original developer of Morriston, by means of a residential led development that incorporates a range of other supporting uses, at a sustainable site to the north of the existing settlement adjacent to the DVLA offices and close to Morriston District Centre.
1.3.32
Also within the North Zone, there are opportunities for non-strategic scale residential development at various locations within the urban area; and for a healthcare development on land adjacent to Morriston Hospital to deliver a nucleus of modern healthcare facilities of regional significance.
1.3.33
Around 3,230 new homes are proposed within this Zone. 
1.3.34
The East Zone largely comprises the urban area east of the River Tawe and extends as far north as Clydach. It includes employment and mixed use locations, such as Swansea Enterprise Park, Swansea Vale, Swansea Port and SA1 Swansea Waterfront. The area has been subject to significant regeneration and this will continue through mixed use SDAs at:
• The Fabian Way Corridor – (including SA1) a key employment location and in an unique position to capitalise on its proximity to the Swansea University Bay Campus and proposed University of Wales Trinity St David (UWTSD) Innovation Quarter, Swansea Port and potentially the proposed Tidal Lagoon.
• Swansea Vale - a renewed development strategy is proposed for this area having regard to site specific constraints, providing a framework to bring forward the remaining undeveloped land. 
1.3.35
Also within this Zone, non-strategic allocations within the urban area provide appropriate rounding off opportunities at Bonymaen, Birchgrove, Clydach, Llansamlet, and Port Tennant.
1.3.36
Around 3,179 new homes are proposed within this Zone. 
1.3.37
The Central Zone largely comprises the Swansea Central Area SDA, which includes the City Waterfront as well as the Retail Centre. Also in this Zone are well-established residential areas such as Sandfields,Brynmill, and Uplands. The Zone includes the Tawe Riverside Corridor, which is identified as a mixed use SDA that will grow in response to the sporting activities, retail and housing recently delivered, as well as heritage led regeneration opportunities.
1.3.38
The Zone is largely built out in terms of available undeveloped land, and the future residential strategy is therefore focussed on delivery of new homes associated with comprehensive City Centre regeneration proposals, windfall brownfield sites and conversion of vacant accommodation, including above shops. 
1.3.39
2,832 new homes are proposed on allocated sites within this zone. 
1.3.40
The West Zone rapidly expanded and merged in the late Twentieth Century, expanding to its environmental limits from the waterfront through to the Gower Area of Outstanding Natural Beauty (AONB) boundary. The Zone comprises primarily residential settlements, including Sketty and Mumbles. 
1.3.41
A residential led SDA is identified on land surplus to operational requirements at Cefn Coed Hospital in association with other complementary uses and new highway infrastructure that will help reduce congestion. 
1.3.42
Due to the built-out nature of the West Zone, the majority of new housebuilding elsewhere is expected to be on small-scale infill and windfall redevelopment sites rather than specific allocations. 
1.3.43
Housing opportunities for first time buyers and low income households are limited in this Zone compared to others due to high land values and redevelopment costs. The Plan therefore provides at locations adjoining Gower Fringe locations as an exception sites to meet identified affordable/local needs.
1.3.44
Around 1,460 new homes are proposed in this Zone. 
1.3.45
The Gower and Gower Fringe Zones are characterised by small and large villages located in rural and semi-rural landscapes, some near the western fringe of the urban area.
1.3.46
The Plan does not allocate any 'open market' sites within these Zones. Opportunities for large sites are curtailed by significant constraints, particularly landscape and biodiversity concerns. Some smallscale settlement boundary amendments have been made to previous delineations at appropriate village and urban fringe locations, in instances where the existing character of the village or settlement would be maintained or improved. Appropriate small infill and brownfield windfall sites within village boundaries and fringe settlements are also expected to come forward. Controlled expansion is the only viable way of delivering affordable, local needs housing or bringing forward community facilities that are lacking. As such, a select number of 'exception' sites have been allocated in Key Villages within these Zones to bring forward affordable Housing for Local Needs, with some open market homes also for Local Needs
1.3.47
There is an identified need to deliver around 500 new Swansea Local Development Plan homes within this Zone the majority of which should be affordable to meet identified local needs.
Figure 7 – Plan Strategy Diagram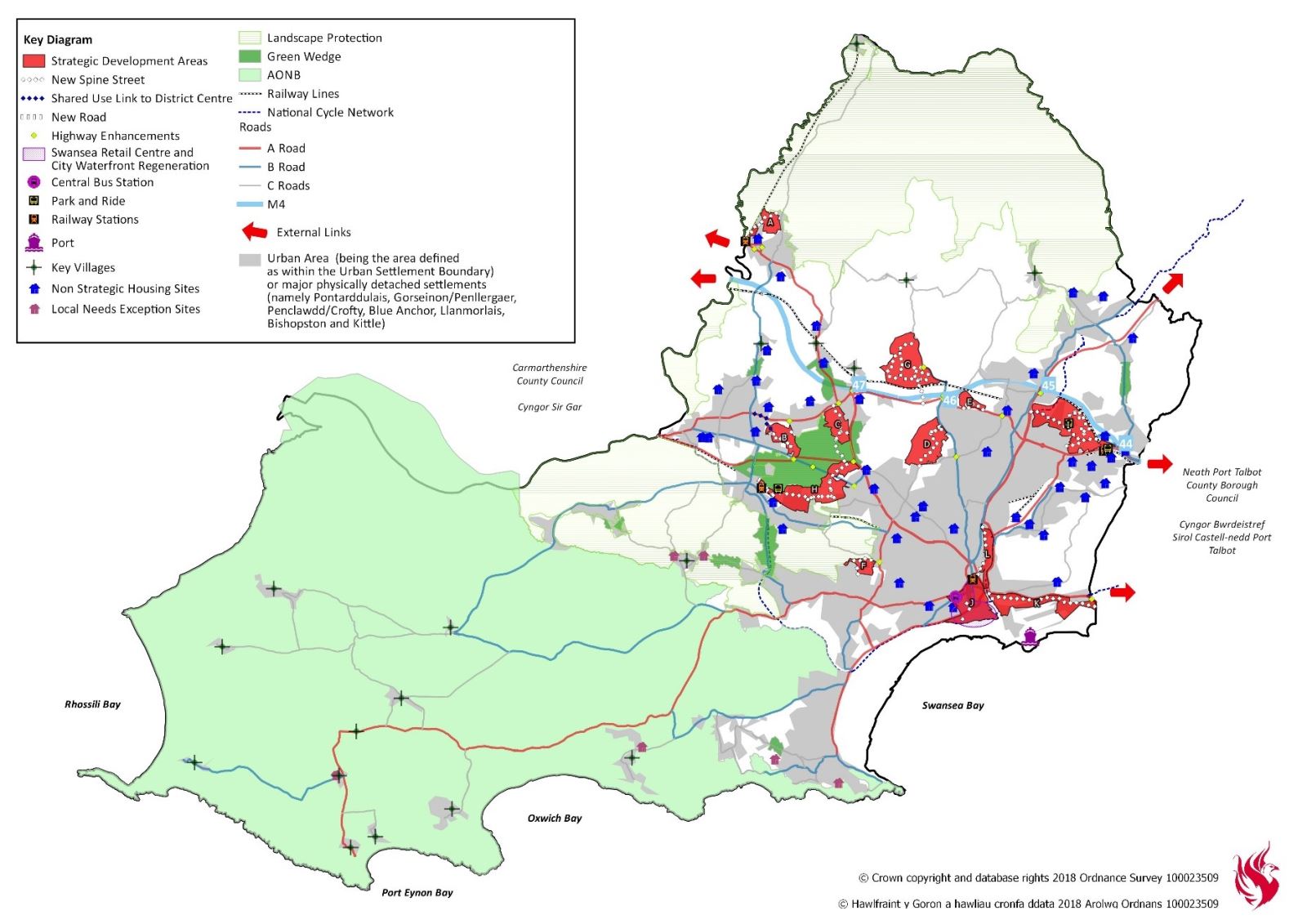 Key Themes
Sustainable, Cohesive and Connected Communities
1.4.1
Development is not a negative concept if planned in a coherent manner having regard to the needs and wants of people that will ultimately live, work and spend recreational time within an area. The Plan provides the opportunity to create new sustainable communities that are planned on this principle, and to enhance and sustain existing communities, through a positive and holistic planning process, known as 'Placemaking'. 
1.4.2
Some of the locations with the greatest potential for growth are located within areas that experience some of the most significant constraints regarding existing infrastructure and access to facilities. The Plan therefore places a strong emphasis upon the importance of ensuring that growth is supported by appropriate and improved infrastructure.
1.4.3
Where infrastructure is currently inadequate, or the quality is poor, this is not always a justification for resisting development. In the current economic climate, new development can be the most realistic means of addressing such deficiencies or inequalities. SDA's provide economies of scale to deliver not only required housing and supporting infrastructure, but the full range of complementary uses such as employment, retail, recreation and new community facilities. Effective use of Planning Obligations and potentially Community Infrastructure Levy (CIL), together with the masterplanning of sites will be key to ensuring new development comes forward in a coordinated fashion with the delivery of necessary supporting infrastructure.
1.4.4
The Swansea Bay LHMA undertaken by independent consultants sets out a need for 7,400 affordable houses in the Plan period. The provision of open market housing to meet the overall housing requirement must be balanced with the delivery of sufficient affordable housing to create cohesive communities. If the affordable housing target is set too high, adverse impact on development viability will choke off supply. If the target is too low, affordable housing need will not be met to any significant degree. The policies have therefore been informed by an Affordable Housing Viability Study (AHVS) prepared by independent consultants. The LHMA concludes it is unlikely the affordable housing delivery targets can be achieved in the current economic climate. It further states that even if currently viable levels of affordable housing are negotiated on every site there is still likely to be a shortfall in delivery. The Plan therefore makes provision for a significant but realistic contribution to delivering the affordable housing targetidentified in the LHMA. Swansea Local Development Plan The Council will supplement the planning obligations mechanism with other strategies to meet the overall need. 
1.4.5
Accessibility and connectivity is another important aspect of creating cohesive sustainable communities. Peak time traffic congestion is an issue in parts of the County with resulting air quality issues. Detailed research has been undertaken to quantify the potential cumulative effects on the highway infrastructure of the sites allocated in the Plan and the Plan sets out the extent to which allocations are dependent on transport improvements being brought forward. 
1.4.6
New developments will need to be at locations well served by public transport and accessible by cycling and walking to provide people with a realistic choice of using more sustainable and Active Travel modes and ensure that connectivity is provided for all users, especially the most vulnerable and disadvantaged. Active Travel is important for promoting Healthy City aims, leisure opportunities and empowers young people's mobility, including safer routes to school. The promotion of walking and cycling will therefore be integrated into all new developments. 
1.4.7
The creation of high quality bus corridors into Swansea is a Regional Transport Plan priority, as are further Park & Ride and bus priority schemes. These are integrated into the Plan policies and proposals. Major generators of travel demand will be located in areas well served by public transport, or where the prior provision of infrastructure and facilities are integral elements of allocations. The Plan seeks to maximise the benefits of recent improvements to the Llanelli-Swansea rail-line with allocations integrating with the new facilities at Gowerton station.  
1.4.8
Modern, fast, affordable and secure telecommunications facilities are an essential and beneficial element for supporting a prosperous economy and for the life of the local community. Increasing digital connectivity is seen as crucial to developing the emerging Swansea Bay City Region and is supported by the Plan. 
1.4.9
There are issues relating to providing sufficient capacity in combined sewer systems in parts of the County. The capacity of this infrastructure is the responsibility of Dwr Cymru Welsh Water (DCWW) as the statutory sewage undertakers, and the requirements of the sites allocated in the Plan will be addressed through legislative and regulatory mechanisms, and supply/demand investment as set out in their long term Asset Management Plans. To support this approach, the Plan may require the compensatory removal of surface water from the combined sewers systems; will promotes Sustainable DrainageSystems (SuDS) to control and manage surface water discharge from new developments and prevent new connections of surface water drainage to the Swansea Local Development Plan sewerage network.  
1.4.10
A sustainable approach to flood risk is adopted by avoiding highly vulnerable development within flood hazard areas, which for the purposes of the Plan are defined as areas of the floodplain without significant flood defence infrastructure (TAN 15 Development and Flood Risk (2004) Category C2 refers). Areas at risk of flooding from rivers are identified on Development Advice Maps that accompany TAN 15 Development and Flood Risk (2004) as updated January 2015. Flood risk from surface run off, groundwater, and ordinary watercourses is considered under the County's Local Flood RiskManagement Strategy16. In addressing flood risk issues, regard must also be had to the Catchment Flood Management Plan (CFMP)17  and the Shoreline Management Plan (SMP)18 which set out how to manage flood risk.
16  Swansea - Local flood risk management strategy
17 Catchment Flood Management Plan 2015 http://www.swansea.gov.uk/floodriskmanagementplan
18 Swansea Bay Shoreline Management Plan (2001) http://www.swansea.gov.uk/article/5390/Drainage-and-coastalmanagement
Regeneration Priorities
1.4.11
The Swansea Central Area has benefitted from significant investment in recent years. Projects have included commercial developments as well as public realm and building enhancement to improve the fabric of the City. This has not, though, been enough to significantly improve Swansea's relative performance as measured against UK City Centre rankings. This can partly be attributed to the economic downturn and reduced spending, but also results from the lack of a new comprehensive retail-led development being delivered, and the significant threat from competing Retail Parks and other out-of-centre development.
1.4.12
The Plan seeks to maximise investment by facilitating significant new retail and leisure investment within the Retail Centre, complemented by new high quality office space and housing development, and ensuring further proliferation of unrestricted retail and leisure development at out-of-centre and Retail Park locations does not compromise the prospects for delivering such aims. 
1.4.13
There is potential to deliver a number of projects within the Swansea Central Area that would significantly enhance its vibrancy and viability and ensure it remains the regional centre. The Plan will facilitate the delivery of a major mixed-use development incorporating significant new retail and leisure uses with complementary residential development, within the heart of the Central Area at the site of the former St David's Centre. This is required to create a regionally dominant retail and leisure destination that can support a vibrant day and night-time economy and to claw back footfall and spending to the Retail Centre. Proposals that would compromise the delivery of this scheme will not be supported. Significantly, there is a clear opportunity for Swansea to differentiate itself from other cities by creating a destination that provides a mix of national and local retailers that are supported by a range of Swansea Local Development Plan cultural and leisure facilities, linked to a vibrant waterfront area. Plan policy is supported by Supplementary Planning Guidance (SPG) to inform development within the Central Area, not only within the retail 'core', but also the 'Complementary Areas' that adjoin it.  
1.4.14
Alongside City Centre regeneration, the Plan will play a role in facilitating investment and renewal within the County's District Centre's. They perform a crucial role in community life, as a hub for local activity, and therefore any deterioration in their quality or offer would have a wide detrimental impact. 
Environmental Capital and Constraints
1.4.15
While supporting growth is key to the Plan's strategy, this will be achieved in a sustainable manner, by conserving and enhancing the County's natural heritage and capitalising on the distinctive relationship between the vibrant urban areas and outstanding rural and coastal environments.
1.4.16
This will be achieved through the promotion of sustainable development within environmental limits, supporting development that does not conflict with the need to maintain and, where possible, enhance the countryside for future generations. The Plan aims to safeguard the interplay of urban and rural areas and ensure that the County can better respond to increasingly complex environmental challenges, inequalities in well-being and health, and deliver more vibrant and viable rural and urban communities. 
1.4.17
The ease with which residents and visitors can move between urban and rural environments, and their inter-visibility, is part of the unique and distinctive character of the County, however there remain opportunities for improvement and enhancement. In particular, the proximity of the urban area to the waterfront presents huge opportunities for enhancing connectivity and movement to better integrate the distinctive coastal environment with the built up area. The Plan will therefore seek to ensure that new development proposals explore opportunities, wherever reasonable, to not only protect existing connections, but create new opportunities for movement between the built environment and the County's undeveloped and open spaces. 
1.4.18
The diversity of landscapes and habitats which make up over 80% of the County's total area include upland moorland, coastal cliffs, sandy beaches, heathland, woodland, wetlands, river valleys and estuaries. These habitats together with the many historic parks and gardens, pockets of urban green-space and large areas of farmland make it one of the most attractive and ecologically diverse counties in the UK, with over 50% of the County's area being of significant ecological interest. This wealth of wildlife habitats supports a huge diversity of plant and animal species. The collective term for this resource is biodiversity. Many of the habitats and species identified as being of importance for Biodiversity Conservation in the UK can be found in Swansea, and approximately 17% of the County's area is protected by designations at an International or National level.
1.4.19
These designated areas and priority habitats Swansea Local Development Plan represent only the very best of the County's biodiversity. They do not, however, encompass all that is irreplaceable and cannot by themselves maintain biodiversity. Even common habitats, urban wildlife sites and green spaces, are important in maintaining a network of semi-natural sites, and the quality and extent of the biodiversity resource as a whole. 
1.4.20
It is the unique relationship between a vibrant city and outstanding biodiversity and countryside that helps to make the County a unique and particularly attractive place to live, work and visit. The County's natural heritage contributes to a positive visual impression of the area, leading to a beneficial impact on the local economy through increased tourism, enhanced appeal for inward investment, and direct job creation and employment opportunities in the environmental sector. Contact with nature can also improve health and well-being, offering free or low cost opportunities for recreation and a place of refuge from the hustle and bustle of urban life. 
1.4.21
Maintenance of the high quality, beauty and diversity of the County's natural heritage is therefore fundamental to the economic, environmental and social well-being of the area. The Plan seeks to capitalise on these benefits and highlight the role they play in delivering sustainable economic growth. 
1.4.22
The network of open spaces and green areas (Green Infrastructure) within the County improves the amenity value for, and quality of life of, residents and encourages community interest and cohesion. The extent and quality of this network will be safeguarded and enhanced where appropriate, including requiring appropriate provision of open space to be an integral part of masterplanning new developments.
1.4.23
Woodlands, hedgerows, groups and individual trees, including ancient and veteran trees, play an important role in enhancing the County's landscape and biodiversity. They also provide a range of additional valuable services (ecosystem services) that include improving local air quality, reducing the impact of noise pollution, capturing carbon, reducing flood risk and enhancing social cohesion in communities. It is increasingly recognised that trees not only contribute to both the amenity and natural habitat of urban areas, rural villages and individual buildings but they also help to alleviate problems associated with urbanisation, pollution and climate change and will wherever possible be protected as part of development.
1.4.24
The Burry Inlet and Loughor Estuary is an internationally protected site of the highest quality. It is part of a network of important European sites designated under the European Union Habitats and Birds Directives. The Burry Inlet is a designated Special Protection Area (SPA) and the Carmarthen Bay and Estuaries is a Special Area of Conservation (SAC). These two sites combine to form part of the wider CBEEMS which stretches into Carmarthenshire County Council (CCC). The quality of this highly valuable environmental resource will be safeguarded primarily by maintaining water quality in the Estuaries, Swansea Local Development Plan which will in turn safeguard the important habitats and species. In addition, the Welsh National Marine Plan forms the foundation of a seascape assessment for the County that will inform Plan policy relating to coastal locations.
1.4.25
Water is an essential resource and its presence and purity is paramount for the sustainability of life. Poor and deteriorating water quality, as a result of pollution, and compromised water quantity as a result of over abstraction, will have a damaging effect on the water supply for domestic and industrial consumption, farming and food production, biodiversity, bathing, fishing and other leisure activities. The Plan will maintain and enhance the quality and quantity of water resources, including rivers, canals, lakes, ponds and other water bodies. Policy implementation will involve close collaboration with Natural Resources Wales (NRW) and DCWW to secure adequate supply of water and sewerage infrastructure.
1.4.26
To avoid adverse effects on the integrity of all European Sites (either alone or in combination with other plans or projects), development at certain locations across the County may need to provide adequate mitigation measures to avoid, cancel or reduce the effects on: the aquatic environment; the marine environment; the coast; and/or mobile species. Similar measures may also need to be provided to mitigate the effects upon these sites from disturbance from air pollution, noise and lighting. 
1.4.27
The Plan recognises that the countryside and coast provide more than an enviable setting for the urban area. It is the distinctive relationship between the adjacent urban area and this outstanding landscape, encompassing a coastline of rugged cliffs and sandy beaches, lowland areas with mosaic field patterns and large stretches of open upland moorland, that gives the County its unique character, distinctiveness and sense of place. In their own right the countryside and coast make a vital contribution to quality of life. They provide a stimulating environment to live and work, afford opportunities for a wide range of countryside recreation, sport and tourism activities, support a diversity of landscapes, habitats and species and make a significant contribution to the mitigation of climate change. It is these special qualities that make up the integrity of the countryside and coast, the protection of which will help ensure that rural areas thrive.
1.4.28
The challenge for the Plan is to allow for development associated with a new era of prosperity and opportunity for the County, whilst ensuring protection and enhancement of the natural environment to support a high quality of life, health and well-being for individuals and communities, and providing an attractive environment for investment, space for nature to thrive and increased resilience to climate change impacts. 
Culture and Heritage
1.4.29
The Plan will preserve and enhance the County's high quality cultural and historic environments, including protecting and improving an array of fine buildings, Swansea Local Development Plan monuments and areas that help give Swansea its unique and special character. A significant element of the County's heritage is at risk and the Plan will bring increased emphasis on bringing these buildings back into beneficial use whilst respecting the architectural interest and historic significance. 
1.4.30
The County has a lower percentage of Welsh speakers compared to the Welsh average, however there are areas where the language is a significant part of the community fabric, providing a strong sense of place and identity, particularly Mawr, Clydach and Pontarddulais. There are also areas in the north west of the County which have experienced a decline in Welsh speakers over the last decade. Together the Greater North West SHPZ comprises the highest percentage of individuals with Welsh language skills. This SHPZ will be defined as a Language Sensitive Area (LSA) given that it is considered that within this area proposals for housing and employment provision will have the greatest impact on the future vitality and viability of the Language.
1.4.31
Tourism, leisure, culture, sports and major events all have the potential to raise economic activity, enhance regeneration and building conservation as well as improve overall sustainable development, health and quality of life. The County's attractiveness as a tourist destination is heavily based on its outstanding natural beauty. It is important that this natural beauty is sustained and that tourism does not negatively impact on the very environment that attracts visitors in the first place. The Plan will support the improvement, expansion and diversification of appropriate sustainable tourism facilities and infrastructure in recognition of its importance to the economy and the need to balance development with environmental and cultural considerations.  
1.4.32
The tourism product within the County is highly influenced by location, with some areas of the Gower AONB coast dominated by the historic development of static and touring caravan and camping provision. The City Centre contains a significant number of hotels, tourist attractions and leisure facilities, whilst the rural uplands in the north of the County have an under provision of tourism accommodation and facilities. There are possibilities to increase the number of tourist attractions, cultural and leisure facilities within the urban area, particularly the City Centre and urban waterfront to help reinforce the area's important industrial heritage and complement the natural beauty of the County's countryside. 
1.4.33
It is recognised that suitable recreational tourism and leisure uses can benefit the rural economy and assist in its diversification. Such development must be sympathetic in nature and scale to the local environment and to the needs of visitors and the local community and not result in unacceptable harm to natural heritage interests.
1.4.34
The majority of static caravan sites within the County are located within the Gower AONB and have been in existence since the early 1960's. They are located in areas of high landscape and scenic value which experience significant tourist pressure. Many static caravan sites are highly prominent in the landscape and do little to conserve and enhance the natural beauty of the AONB due to poor layout/design, density and/or ineffective landscaping. The Plan seeks to resist additional static caravan sites of this nature.  
1.4.35
There is control over the provision of caravan pitches via an Article 4 Direction. The reasons for the Direction remain and it continues to be an important control for the protection of the natural beauty of the AONB. In order to help inform control of caravan and camping sites, a Gower Landscape Sensitivity and Capacity Study for Caravan and Camping Sites (LCS), 2013, was undertaken to assess which Landscape Character Areas (LCA's) within the AONB have landscape capacity for additional and/or extended sites. The LCS identified eleven LCAs as having potential capacity for the provision of additional touring caravan and or/camping facilities, or minor extensions of certain existing sites, without general detriment to their landscape character. However, no capacity for additional static caravan sites was identified. The starting point for consideration of proposals for new/extended caravan and camping sites within the AONB will be an assessment of its impact on the landscape using the LCS. To protect the natural beauty of the AONB's landscape and in recognition of strong pressure for additional growth in the sector, a controlled policy approach towards caravans and tents will operate within the AONB. 
37 Gower Landscape Sensitivity and Capacity Study for Caravan and Camping Sites (2013) https://www.swansea.gov.uk/LDPEvidenceBase
1.4.36
There are fewer caravan and camping sites located outside the AONB, and an under provision of tourism accommodation and facilities in the north of the County, which is an area that has the potential to support further caravan and campsites. Provision of new or extended static caravan, lodge/cabin, touring caravan or camp sites will generally be supported outside of the AONB provided they add to the quality of the accommodation offer in the County and do not materially harm natural heritage or environmental amenity. 
Resources
1.4.37
The Plan will facilitate the development of a sustainable and integrated approach to waste management, to accord with the overall waste management plan for Wales as set out in the National Waste Strategy 'Towards Zero Waste' (2010), the 'Sector Plans' (particularly the Collection Infrastructure and Markets (CIMs) Sector Plan which focuses on delivering the necessary collection systems, infrastructure and markets for recyclates in Wales), Planning Policy Wales (PPW) and TAN 21: (Waste)19  (2014) form the overall waste management plan for Wales. The Plan will help to promote the reduction, reuse and recycling of waste materials. This waste hierarchy is a central pillar to inform decisions on waste management options and ensure that wastes are managed in a way that delivers the best overall environmental outcome. The options for waste management appear in the waste hierarchy in general order of preference and sustainability and, when taking planning decisions, it is expected that it will be applied as a priority order. Waste prevention and reuse is at the top of the hierarchy, followed by preparation for reuse, recycling, recovery and finally disposal. The Plan, together with the Council's Municipal Waste Management Strategy form an integrated set of measures that will deliver a sustainable approach to waste management. The Plan sets out the types of locations where new waste management facilities may be considered suitable, and the criteria against which facilities will be considered as they are brought forward.  
19 TAN 21 Waste (2014)
1.4.38
Regional Waste Monitoring Plans will collate information on landfill void and operational recovery capacity at a regional level and will be published annually. The Plans will be used to help inform capacity requirements and regional capacity need. Continued co-operation with other LPAs will ensure that the capacities required in each region will be provided. 
1.4.39
There is an identified need for sites for meeting recyclable and reusable waste which should have good strategic and local access, but given the nature of these forms of developments, the Plan will require that they should be accommodated some distance from neighbouring residential and high quality employment uses.  
1.4.40
Mineral resources within the context of the Plan refers to all that have resource potential. Mineral working is different from other forms of development in that extraction can only take place where the mineral is found to occur. The County sits on the edge of the South Wales Coalfield Basin and the most significant mineral resource physically available is coal and the Pennant Sandstone which caps it. Opportunities for mineral development are limited to the north of the County, due to the high level of protection afforded to the Gower AONB and the extent of the built development that sterilises much of the land to the south of the M4. Pennant Sandstone has the greatest environmental capacity for extraction to the north of the M4. There is also the potential for coal bed methane gas associated with the lower seams of the Coal Measures, as well as scattered outcrops of sand and gravel resources. The Plan seeks to strike an acceptable balance between the national, regional and local requirement to both develop and safeguard mineral resources, the protection of the natural and built environment and the quality of life for those people living and working within the County. 
1.4.41
The South Wales Regional Technical Statement (RTS)20 provides a strategy for the future maintenance of an adequate and steady supply of construction aggregates. Under the provisions of this agreed regional strategy, there is no requirement to make any future provision for land-won primary aggregates within the County, including allocations for future workings, within the Plan.  
20 South Wales Regional Technical Statement for Aggregates (1st Review 2014)
1.4.42
All the County's sand and gravel is currently imported from marine-dredged sources in the Bristol Channel. The wharves and railheads in Swansea Docks, whether currently utilised or not, are safeguarded on the Proposals Map to provide a range of sustainable transport options. Future development proposals will need to consider the potential impact on the landing of marine sand and gravel at Swansea Docks. 
1.4.43
The re-use and recycling of suitable mineral materials will continue to be encouraged to offset the requirements for primary aggregates. The level of production, demand and imports will be monitored alongside the aggregate reserves in neighbouring authorities throughout the lifetime of the Plan and the allocation requirements revised if necessary. 
1.4.44
To ensure the sustainable development of mineral resources the Plan ensures that society's needs for minerals are met during the lifetime of the Plan, and that aggregate and coal resources will be safeguarded to ensure they are not unnecessarily sterilised by non-mineral development.